It's so rare to find an old piece of colonial history which hasn't been knocked over, left in a state of disrepair or so extensively changed that it doesn't resemble it's original self. It's reasons like this that make Oak Lodge, even more special and significant, not just for tourists but for locals too.
Oak Lodge is the only historic home in Richmond which is open to the public. It's like a time capsule – the interior and exterior have barely changed since the early 1800's. Enjoy the character of the sandstone construction, underfloor cellar, and the unique timber staircases, locks and joinery. Outside you'll find the original timber stables and cobblestone paths.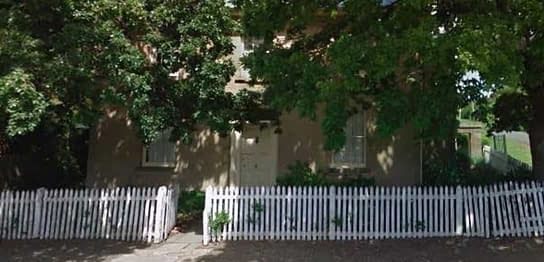 As just a building, Oak Lodge has plenty of depth to interest anyone. But there's more to this property than meets the eye. Oak Lodge has been inhabited by a diverse range of successful people, who have held influential roles not just in Richmond, but on a global level.
The Construction of Oak Lodge
Oak Lodge was built between 1831 and 1842 by Henry Buscombe. Henry was the younger brother of James Buscombe who held a pivotal role in the construction of many of Richmond's key buildings. These include Prospect House, the Granary, the post office, and the Lennox Arms Hotel (now the Richmond Arms Hotel).
Henry had just arrived in Tasmania (known at the time as Van Diemen's Land) in 1830 and like most new settlers or released convicts, Henry applied for a land grant. Henry stated that he intended to construct a substantial sized home with a number of improvements to the land such as a post and rail fence. On these conditions, Henry was granted a piece of land at the edge of the village, on the corner of Bridge Street and Blair Street.
The Booth Period
James Buscombe sold the property in 1843 to Captain James Richard Booth. James was the son of Richard Booth, a highly regarded Royal Navy purser who served in the Napoleonic wars. James was also highly regarded in the navy, his achievements include commanding H.M.S Tricuno against the African slave trade during 1832-1835.
Booth was also the brother of Charles O'Hara Booth, the former commandant of the convict settlement in Port Arthur. Booth named the house "Basing Lodge", however the locals often referred to it as the "Commandants House", as James was the brother of the former Commandant of Port Arthur convict settlement.
James was accompanied by his wife Jane. Jane Booth, formerly Jane Elizabeth Wylde, was daughter to Sir John Wylde. John had previously held roles such as Chief Justice of the Cape of Good Hope in South Africa, as well as owning prominent properties in New South Wales.
While living in Oak Lodge, James was an active member of the community. He held roles such as a magistrate, church warden at St Lukes Anglican Church and member of the Hobart Regatta committee.
In 1846 Booth returned to England rather suddenly, on the news of his father's illness. The property was leased out and at this point, it was named Oak Lodge, after the two beautiful English Oak trees which stand in front of the house. This name still stands today.
In 1855, Oak Lodge was sold to Reverand David Galer, the priest of St Luke's Anglican church in Richmond. He resided at Oak Lodge for close to twenty years. After a lengthy spell on the property market it was sold in 1880 to local schoolmaster William Stevens and Mary Bedgood, a widow who was presumed to have been William's sister. Mary Bedgood resided in the property until it was sold to Arthur Ogilvy in 1909.
The Prestigious Doctor
Ogilvy rented Oak Lodge out to doctor, Dr William Goodwin Chadbourne Clark. Clark was a Harvard medical graduate, born in the United States. He was also a distant cousin of both Roosevelt US presidents, and kept in regular communication with Franklin D. Roosevelt. He first arrived in Australia in 1898, living and working Launceston, Hobart and the Huon before settling in Richmond with his wife Emma Kate Dixon in 1909.
Dr Clark's education and experience was used to improve the state of the Hobart hospital which was in a terrible state. Dr Clark found the working conditions to be substandard and left four years later, claiming victory in a court case against the hospital. Dr. Clark became a general practitioner in Sorell and then Richmond where he worked out of Oak Lodge until retiring in 1947.
Dr. Clark's consulting rooms can still be viewed by visitors today. Furniture and equipement from this period is on display, including a 19th century doctor's table, a wheel chair and a baby weighing scales
Dr. Clark had five children, who undertook schooling at Oak Lodge by a governess. They went on to lead interesting lives such as Joseph who left for England to become a Shakespearian actor. Max kept the Oak Lodge navy connection alive by becoming a senior Australian naval officer who was awarded a distinguished service order in world war two.
Clark stayed at Oak Lodge until the late 1940's. During Clark's residency, there were a number of owners such as solicitor James Montegu Butler.
The Horsfalls
In 1962 Montagu sold Oak Lodge to the Horsfall sisters. In 1998 Muriel Horsfall decided she was unable to maintain the precious old house all by herself and donated it to the National Trust. She stated her wishes for the house to be made looked after and made publically available for the community and visitors to appreciate.
Oak Lodge Today
After briefly toying with the idea of selling the property to pay debts, the National trust have continued to keep Oak Lodge, with volunteers from the Coal River Valley Historical Society working hard to maintain the beautiful house and grounds.
Some of their work includes uncovering and restoring the original 1840's gothic wallpaper alongside the main staircase.
Displays have been set up in many of the rooms, containing detailed furniture and detailed information to help visitors to understand and appreciate this fine house and the stories it contains.
Oak Lodge can be visited at 18 Bridge Street Richmond, between 11:30am and 3:330pm each day, for a small admission fee.