Cool Climate Wines & Vineyards with Fine Views
Over the past two to three decades, Richmond and the Coal River Valley have become well known on a national level for their award-winning wineries. These vineyards are fortunate enough to have amazing conditions which have been compared to regions such as Burgundy in France.
These wines are often referred to as 'cool climate' where the growing season runs slightly longer, producing a more character-rich grape. The region is most well known for Pinot Noir, Chardonnay and Sauvignon Blanc. However most wineries also produce other wines, ranging from bold reds to dessert wines.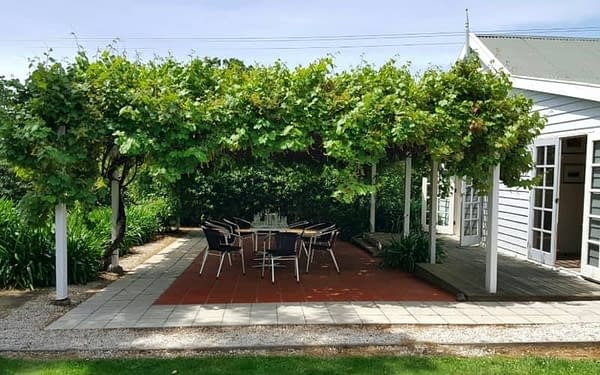 You don't have to be a wine connoisseur to enjoy the Richmond and Coal River Valley wineries. Enjoy the water views, rich green farmlands, restaurants with fresh local produce, and relaxing atmosphere.
And for those who are wine connoisseurs, you'll enjoy a more intimate and personalized experience at your wine tastings. Meet the owner and chief winemaker and get a real feel for what they set out to achieve.
Puddleduck Vineyard
Puddleduck Vineyard begun in 1997 when passionate local winemakers Darren and Jackie Brown had a vision to produce their own wine. This is a small-scale vineyard with a focus on quality over quantity. All grapes are grown on site and processed within an hour of being picked off the vine. Achievements include winning the trophy for the best vintage wine at the Tasmanian wine show in 2016. Stay for a tasting session, you'll be impressed by not only the beautiful wines but the service and knowledge on display.
Puddleduck Vineyard have pioneered a concept which many people would find more than ideal – Reverse BYO. You supply the food and they'll supply the beverages. Have a picnic by the tranquil and relaxing dam or sit back on the deck and watch the ducks. Stay for a tasting or take some bottles home. The selection includes Riesling, Chardonnay, Fume Blanc, Pinot Noir, Verjuice and their own creation – Buddleduck!
And if you have young children, there's room for them to run about. You'll find Puddleduck to be one of the more child-friendly wine tasting venues around.
Address: 992 Richmond Road
Phone: 03 6260 2301
Website: https://www.puddleduckvineyard.com.au
Pooley Wines
Pooley Wines have two locations in the Coal River Valley. Their vineyard and wine tasting at Belmont, on the edge of Butchers Hills and the Richmond village is well worth a visit. Belmont is a beautiful heritage listed sandstone property surrounded by vines. It makes for an idealic backdrop for your wine tasting. On weekends you can sit down and enjoy a gourmet wood fired pizza and a bottle of wine with friends.
The Pooley's are a third generation wine making family, which is very rare in Australia! Their achievements include winning eighteen medals and two trophies at the 2011 Tasmanian Wine Show. With two wineries, Pooley Wines are able to develop a more diverse range of flavours as well as manage risk. The Coinda Vale vineyard is situated on a north east facing slope with soil comprising of sandy loams over sandstone. The soils are high in acid, have excellent drainage and support a long growing season. With 6ha of grapes, many varieties are grown including Riesling, Chardonnay, Pinot Noir, Syrah, Cabernet Sauvignon, Merlot
The Butcher's Hill vineyard, where Belmont is situated, features soil with dolerite, black clay with cracks and limestone over sandstone. Also 6ha in size on an elevated slope, the soil has a higher PH and produces excellent Chardonnay, Pinot Noir, Pinot Grigio and Riesling.
Address: 1431 Richmond Road
Phone: 03 6260 2895
Website: http://www.pooleywines.com.au
Every Man and His Dog Vineyard
An old Coal River Valley Favourite, Palmara Vineyard, has been recently purchased by new owners and given a refresh. The result is Every Man and His Dog Vineyard – a small boutique vineyard on the edge of Richmond. All wine is produced from grapes grown on site, which are then pressed and ripened in French oak barrels. There's cellar door tasting, cheese platters and picnic hampers to enjoy.
It's a nice, relaxing little winery with a luscious green vineyard, you'll never want to leave. Which is fine of course, as they offer a cosy and private bed and breakfast.
Address: 1314 Richmond Road
Phone: 0417 664 634
Website: https://everymanandhisdogvineyard.com
Frogmore Creek
When your driving from Hobart along Richmond Road, it's hard not to notice Frogmore Creek. Even with other Richmond wineries in the area, it stands out. The beautiful blue timber restaurant is surrounded by garden, luscious green banks and vines which flow towards the water.
Frogmore Creek is a great place to stop for lunch. It's award winning restaurant serves the best local produce. The view out the large windows of the vines with Pittwater in the background is sublime. The garden and grounds make a great place to stretch your legs and go for a short walk.
If you're dropping in quickly on your way to Richmond village, you're more than welcome to enjoy a wine tasting and perhaps purchase a bottle or two for later. Varieties to look out for include Sparkling Cuvee, whites such as Chardonnay, Fume Blanc, Pinot Noir, Riesling, Iced Riesling, Gewurtraminer and reds such as Carbernet Franc, Merlot, Cabernet Sauvignon, Gamay and Shiraz.
Frogmore Creek are fortunate enough to have experienced winemaker Alain Rousseau. Originally from France, Alain brings an extensive CV and formal qualifications with his own style of winemaking. His approach is 'Lazy winemaking – we want the fruit to do the work'. Alain's ability to draw balanced and elegant flavours with minimal intervention with the grapes has led to the Frogmore Creek wines becoming highly sought after with discerning wine aficionados.
Address: 699 Richmond Road
Phone: 03 6248 5844
Website: https://frogmorecreek.com.au
Riversdale Estate
Another vineyard and winery situated close to the water with beautiful views. There's lots to do here, you don't have to be a wine lover to enjoy this place. Riversdale Estate comprises of a French bistro, high tea in the Orangery Conservatory, cellar door tasting and sales and cosy 5-star country-style accommodation. Young children will love to explore the Peter Rabbit Garden. There are events on almost every week which are popular with both tourists and locals, take a look at their website for the latest news.
And of course the wine is pretty amazing too! Try the estate range, particularly the multi-award winning Syrah. These wines use the best of their old and new vines to produce a stunning vintage in a noveau style.
Address: 222 Denholms Road
Phone: 03 6248 5555
Website: https://riversdaleestate.com.au/
Craigow Vineyard
The Craigow estate is one of the oldest in the Coal River Valley. It dates back to 1822 when Scottish doctor James Murdoch farmed fruit trees, barley, cattle and poppies on the land he named Craigow-by-Milnathort. In 1989 the first vines were planted and today the vineyard is 11 hectares in size.
Situated on the hillside of Richmond Road, you can see amazing views of the valley. The cellar door offers wine tasting and purchases in a beautiful old restored workers cottage. Visitors are known to enjoy Craigow for the cosy, intimate and personal experience they enjoy.
Craigow produce varieties of wine which best utilise the conditions of the Coal River Valley. This area and the wines produced are likened to the cool-climate regions which are famous in Burgundy, Alsace and the Loire Valley.
Address: 528 Richmond Road
Phone: 0418 126 027
Website: https://www.craigow.com.au
Coal Valley Vineyard
Coal Valley Vineyard is another veteran Tasmanian winery that you can't miss! Situated at the Cambridge end of Richmond Road, there's five hectares of vines and a restaurant with large glass windows with water views for miles. The restaurant is open every day for lunch and is known for their smoked meats.
The vineyard is split into three blocks, which each face the sun in different ways and have different soil types ranging from dark sandy over clay to rich Jurassic dolerite.
The favourite here is the Pinot Noir, but you're likely to enjoy whichever variety you choose.
Address: 257 Richmond Road
Phone: 03 6248 5367
Website: https://www.coalvalley.com.au/
Pressing Matters
Situated slightly north of the Richmond village is Pressing Matters. Instead of trying to be something to everyone, they focus on the two varieties they're good at – Pinot Noir and Riesling. This focus has worked so well for them that they were awarded Best Tasmanian Pinot at the 2018 Australian Pinot Challenge and the Most Successful Tasmanian Exhibitor at the 2018 Royal Hobart Wine Show.
The high standard of Pinot Noir was developed from over 18 different clone and rootstock combinations, all grown at their own vineyard. This combination of growth and flavour adds significant depth and character. The wine is then stored in French oak barrels for nine to ten months. It's released to the public after ageing 3-4 years. The final product is a slightly more aged wine with a pleasing balance of red and black fruits, with acids and tannins which create a nice long finish.
Address: 665 Middle Tea Tree Road
Phone: 03 6268 1947
Website: https://www.pressingmatters.com.au/
Nocton Vineyard
Located 3km north of Richmond village is Nocton Vineyard. In 1999 they first planted vines on their 34ha estate, which faces north east on a gentle slope with dolerite rich soils and excellent free-draining triassic subsoil. They have won awards globally for their Pinot Noir, Chardonnay and Sauvignon Blanc. One of the reasons that their wines have come so successful is because the vines are planted very close together. This forces the roots to grow deeper where the soil is richer to compete for nutrients.
Drop in for a tasting and enjoy the expansive views from the panoramic deck. Take a look at their events page – they are known for stunning visitors with amazing, high class cuisine.
Address: 373 Colebrook Road
Phone: 03 6260 2688
Website: https://noctonwine.com.au